The future of housing prices is a hot button issue even with those who are not thinking of buying or selling just now. Last week when the June statistical report was released from the Outer Banks Association of REALTORS® it showed the residential median sales price up 2% versus June of last year. That number has been up every month this year with the exception of April and May. If you take condos out of the equation and focus on single-family dwellings the June increase in median price is up 6% and has been up every month in 2020. But what about the future?
The Experts
Last week, a very well-respected real estate analytics firm surprised many with their home price projection for the next twelve months. CoreLogic, in their latest Home Price Index said:
"The economic downturn that started in March 2020 is predicted to cause a 6.6% drop in the HPI by May 2021, which would be the first decrease in annual home prices in over 9 years."
The forecast was surprising as it was strikingly different than any other projection by major analysts. Six of the other eight forecasts call for appreciation, and the two who project depreciation indicate it will be one percent or less.
Here is a graph showing all of the projections: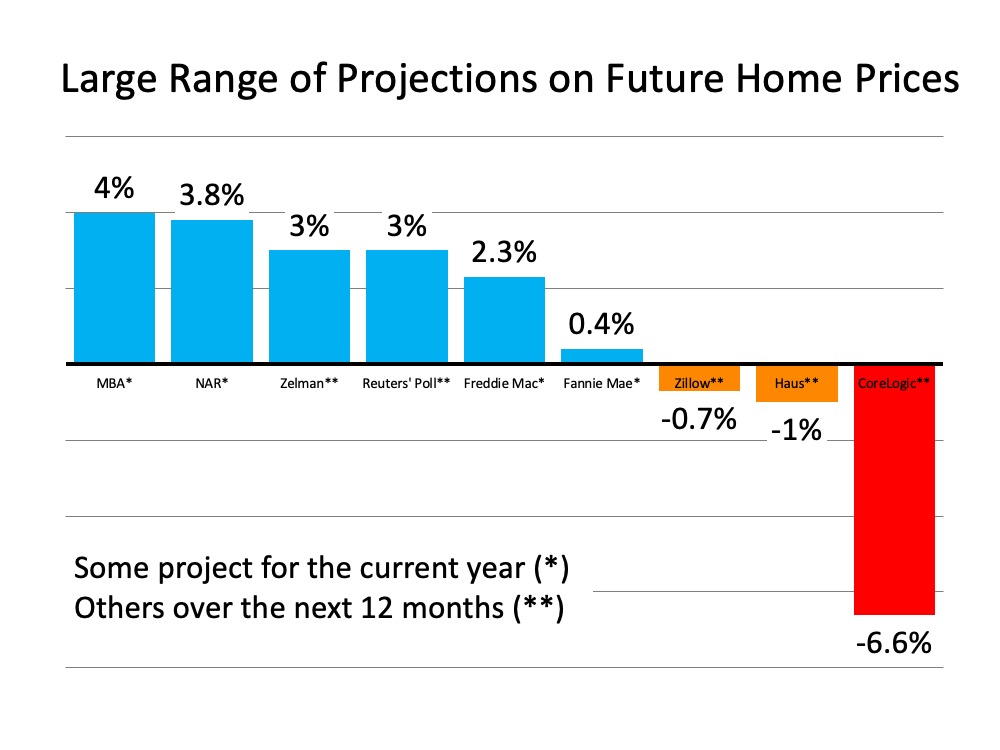 There's a simple formula to determine the future price of any item: calculate the supply of that item in ratio to the demand for that item. In housing right now, demand far exceeds supply. Last week mortgage applications to buy a home were 33% higher than they were at the same time last year. The available inventory of homes for sale is 31% lower than it was last year. Normally, these numbers should call for homes to continue to appreciate. On the OBX, residential inventory is down 39% from last year.
Moose's Nitty-Gritty
Because of the uncertainty with the pandemic, any economic prediction is extremely difficult. However, looking at the limited supply of homes for sale and the tremendous demand for housing, it is difficult to disagree with the majority of analysts who are calling for price appreciation.
If you are wondering what your house might be worth contact your REALTOR®. You might be surprised!
Some of the information in this article is based on information from the Outer Banks Association of REALTORS® MLS for the period January 1, 2019, through July 8, 2020.
Mike is a long-time "Outer Banker", both as a vacationer and a full-time resident. You may also know him as "Moose", his nickname since he was 15 years old, and his on-air radio name for decades in Raleigh, Greensboro/Winston-Salem, and Norfolk. In fact, you can still hear him on Beach 104 every morning on the "Moose & Jody Show". Michael has built successful businesses on the Outer Banks. He is active in the community as well as a founding board member of "Outer Banks Forever", Past President of "The First Flight Society", a founding member of "The Outer Banks Bicycle & Pedestrian Coalition", and Past President and current member of "First Flight Rotary. Moose shares your love of the Outer Banks, understands the uniqueness of the area, and can help you find your perfect home. Learn more at mooseobx.com