By Joy Crist, IslandFreePress.org
The Cape Hatteras National Seashore, which includes Bodie Island, Hatteras Island, and Ocracoke Island, is on track to have its busiest year ever in 2021, with 390,994 visitors reported during the month of September.
This marks the second-highest number of September visitors since the National Seashore was established in 1953, and the top five busiest Septembers are as follows:
Top 5 Highest September Recreational Visits by Year
2002: 466,686
2021: 390,994
2020: 345,249
2000: 334,909
1997: 300,377
Per the Outer Banks Visitors Bureau, CHNS has had a total of 2,663,001 visitors through the end of September 2021. With still three more months to go, this Year-To-Dare (YTD) figure is noticeably higher than the total number of annual visitors for the past four years.
In fact, January-through-September 2021 is already 17,624 higher than the total number of visitors in 2020, which had the highest visitation reported in 17 years.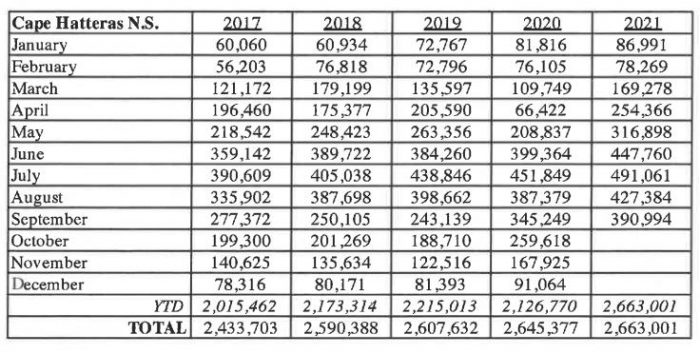 October visitation statistics are forthcoming, and will likely be available in the middle of the month.
Seashore visitation estimates are collected by counting southbound vehicles just north of the Marc Basnight Bridg,e and using a multiplier to estimate the total number of passengers heading south. Those estimates are then added to the number of passengers going to Ocracoke Island from Cedar Island and Swan Quarter.