Cape Hatteras National Seashore staff recently installed an educational panel at the Salvo Sound Access, also called Salvo Day Use Area, in an effort to help visitors understand the importance of the nearly 150-year-old cemetery that is eroding into the Pamlico Sound.
The sign gives a brief history of the community and asks visitors to respect the small Salvo Community Cemetery established in 1872, at Salvo Day Use Area, south of the villages of Rodanthe, Waves and Salvo on the Outer Banks.
"The cemetery is unique, and provides a tangible way to connect visitors and residents to the history of the Outer Banks. Additionally, there have been ongoing concerns about individuals not respecting the cemetery, and the hope is that the context provided in the sign will help people realize how important the site is and to be respectful," said Outer Banks Group Chief of Interpretation & Education Scott Babinowich, who wrote the information included on the Community Cemetery educational panel.
Because the Salvo Sound Access is a very popular destination, Cape Hatteras National Seashore has ongoing plans to improve the educational material available at the location.
Babinowich said he spoke with Robin Holt, an Outer Banks resident and descendent of those buried in the cemetery, to create the content for the educational panel.
"Robin provided great information on the cemetery from her family history and ongoing genealogical research," he said.
He added that Holt approached the park with her concerns and the sign became part of the solution.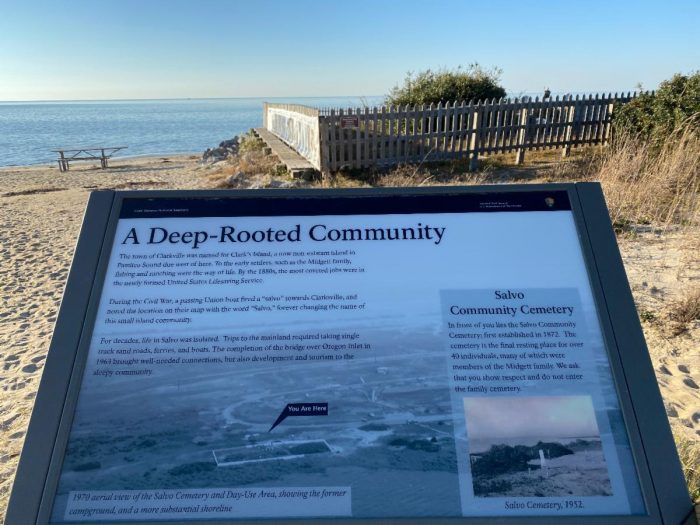 Babinowich said the National Park Service will be working with Holt and descendants to improve information on the Cape Hatteras National Seashore website about the Salvo Community Cemetery.
"We are also working on placing new educational signs at strategic locations throughout the seashore to highlight important, but sometimes overlooked, aspects of the natural and cultural significance of the national seashore," he said. "It is hoped that increased awareness and the personal connections made from the sign will encourage more stewardship of the site."
Babinowich said this educational panel is in loose collaboration with Justin Cook, whose work, "Tide and Time," was first published in May in Coastal Review in partnership with Pulitzer Center's nationwide Connected Coastlines.
"Tide and Time" is a documentary, photography and reporting project that investigates the effects of sea level rise and erosion told through a small cemetery eroding into the Pamlico Sound. Now at the cemetery is a free outdoor exhibit showing the effects of climate change and erosion on the Outer Banks.
"While the theme of this particular educational sign is more on human history, we may eventually add another panel focusing on the changing shoreline," he said.