This is the first in a special reporting series on federal infrastructure spending and North Carolina's navigation needs.
By Trista Talton, Coastal Review:
Millions in supplemental funds from the federal infrastructure bill signed into law last November will be spent unclogging shoaled hot spots in a handful of North Carolina's shallow-draft inlets, giving a reprieve to the local beach towns and counties that, along with the state, have been footing much of the bill for dredging projects.
The additional funding is from the $1.2 trillion Infrastructure Investment and Jobs Act, a bipartisan bill that President Joe Biden signed into law Nov. 21, 2021. The 2022 Disaster Relief Supplemental Appropriations Act pumped an extra $22.81 billion to the U.S. Army Corps of Engineers' coffers.
A portion of the more than $84 million in additional funding funneled to the Corps' Wilmington District will go toward cleaning out shoaled areas of shallow-draft inlets primarily from Carteret County south.
"What is cool about this infrastructure bill is we've got some projects that the federal government has not funded, has not been able to fund … for many years," said Bob Keistler, chief of the district's Civil Works Programs & Project Management Branch. "All those shallow-draft inlets have been federal projects for decades and decades and since about 2005 have not been funded very consistent. Many of these projects are just touching areas that we haven't been able to touch because of funding availability."
Shallow-draft navigation channels are defined as inlets no deeper than 16 feet, a river entrance to the Atlantic Intracoastal Waterway or other interior coastal waterways. There are more than 10 shallow-draft inlet navigation channels along the state's coast.
Other projects tapped in the central to southern part of the state's coast include dredging portions of the Intracoastal Waterway and clearing out the Wilmington Harbor anchorage basin at the state port.
Corps officials are in the process of hashing out the finer details of the projects — prioritizing which channels get dredged first, when they may be dredged and which ones may get pumped out more than once.
"We haven't finalized the scopes and we also haven't finalized the schedule," Keistler said in a late February telephone interview.
And even then, he said, plans can change thanks, in large part, to Mother Nature. If a channel that is crucial to say, a ferry route or the U.S. Coast Guard for purposes of search and rescue, shoals up to the point it creates a navigational hazard, that channel could get bumped up the schedule.
"Every project is not equal," Keistler said. "We can give you a schedule today and next week something changes and it may adjust. We try hard not to jump around too much."
There are five North Carolina waterway projects, including Rollinson Channel in Dare County, that will be dredged by one of the Corps' shallow-draft dredges.
The Corps owns three such dredges for operations from Maine to Texas. One of the dredges is undergoing maintenance in a Memphis, Tennessee, shipyard. It is unclear when that dredge will be back in the small fleet.
Wilmington District has a regional plan with a handful of other districts in the Corps' South Atlantic Division to help streamline shallow-draft projects and eliminate scheduling conflicts.
"We try to be efficient so while we're in the neighborhood we try to do projects that are close to each other so we're not wasting money jumping around," Keistler said.
Central to southern North Carolina coast projects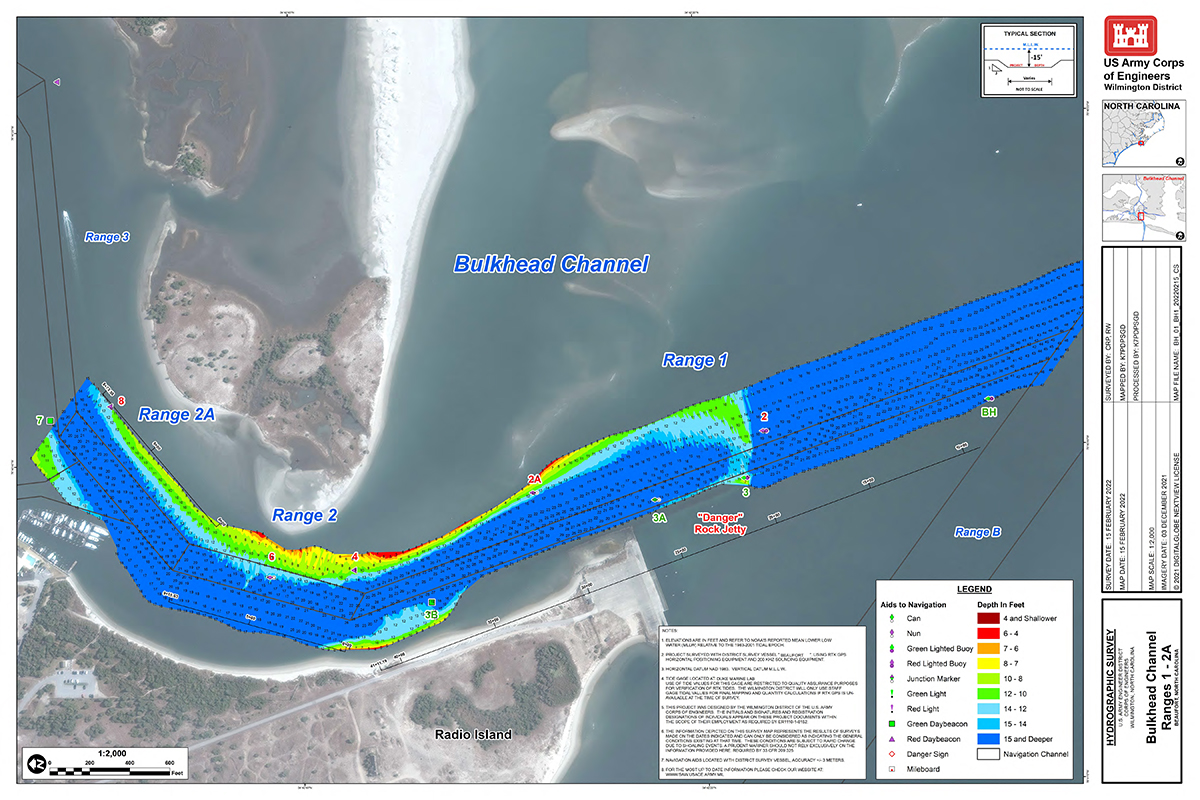 Bulkhead Channel
Bulkhead Channel is the federal channel that stretches between Morehead City Harbor to Beaufort Harbor in Carteret County.
A little more than $500,000 has been allocated to dredging the channel, something that will "more than likely" be a one-time event, Keistler said.
Kyle Garner, Beaufort's planning and inspections director, said in an email that the town tries at least twice yearly to schedule dredging the channel to maintain cost and keep the channel at a consistent depth.
"This channel has been used for over three centuries for mariners and is critical to the economy of the Town of Beaufort," he said. "Our waterfront docks handle hundreds of vessels each year and without an open channel would be devastating. Also, this is used daily by commercial traffic either heading out for a catch or bringing one in, carrying a long-standing tradition. So, yes, keeping the channel open is important financially and culturally to our community."
The channel was last dredged in the fall, a project that cost $236,570, according to Garner. The town footed nearly $55,000 of the bill, with the state contributing a little more than $109,000 and the Corps $72,400 from funds remaining from previous dredging, he said.
"The Channel currently is at a depth of 13 feet on average and is permitted to be at a depth of 17 feet, which is what its depth was back in the fall of 2021," Garner said in the email. "So yes, it has filled in 4 feet (in) a period of a few months and if not dredged will continue at this rate and limit traffic for both commercial (and) pleasure boats."
Keistler said the channel will likely be dredged sometime this spring.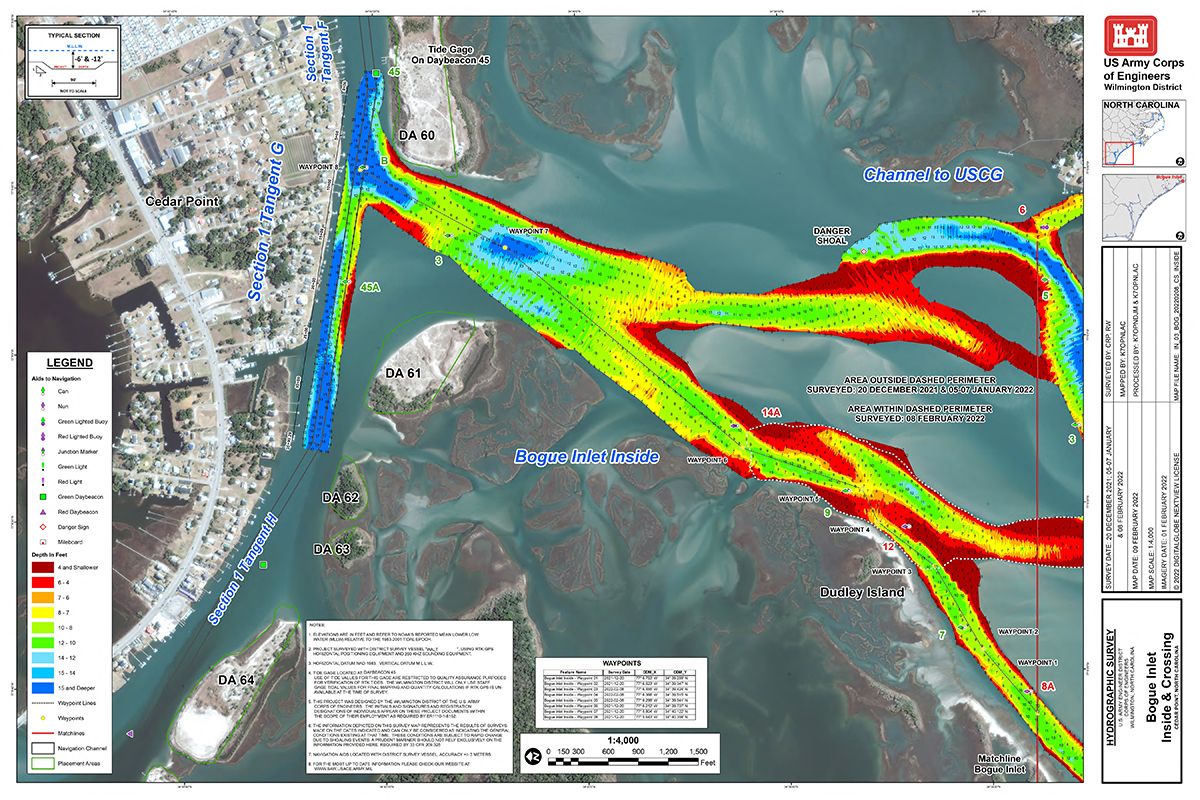 Bogue Inlet
Funds totaling $1.04 million will go to the dredging of Bogue Inlet.
"That'll be three or four dredging cycles," Keistler said. "When I say dredging cycles, it's similar to cutting grass. You cut your grass today and then three weeks later or two weeks later you may need to cut it again."
According to information from the Carteret County Shore Protection Office, the Bogue Inlet connecting channel, which links the inlet to the Intracoastal Waterway near Cedar Point's shore, was dredged last fall.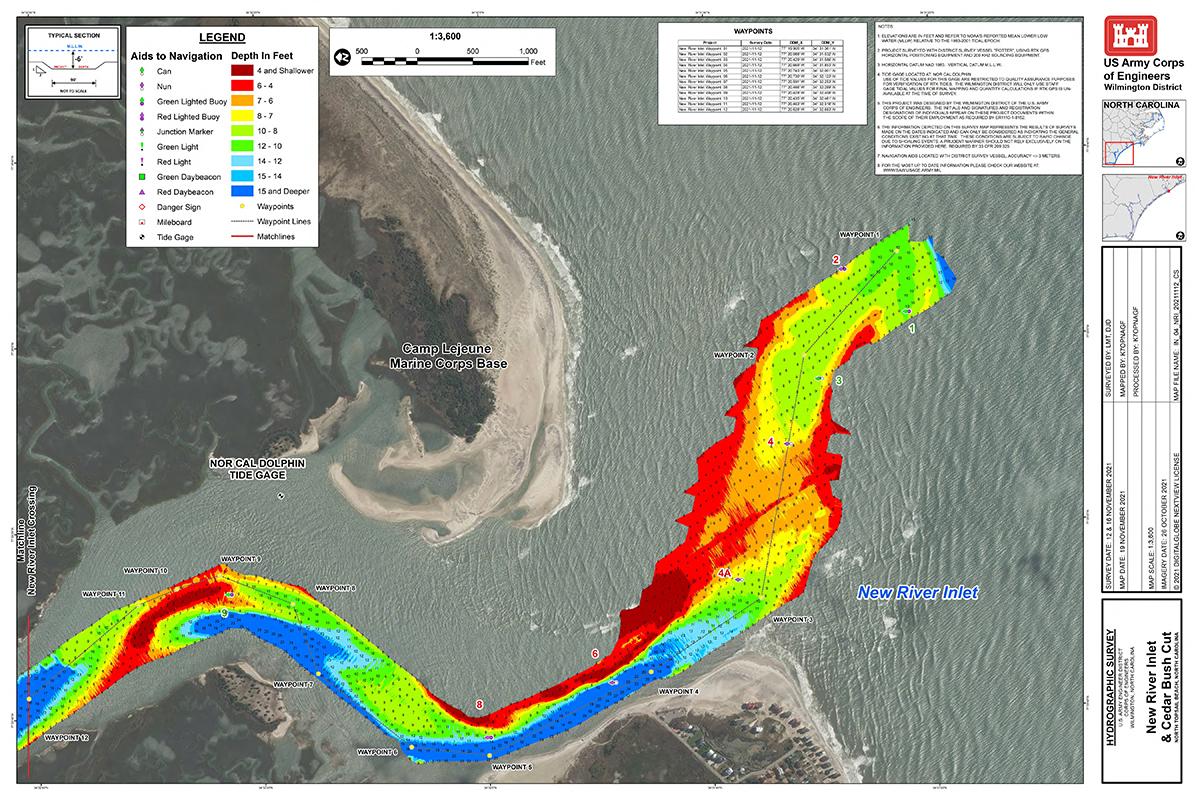 New River Inlet
The New River Inlet project will entail dredging portions of the federal channel between the mouth of the inlet to Jacksonville in Onslow County.
A total of $3 million has been set aside for this project.
"We were funded to address speed bumps in what we call the channels of Jacksonville," Keistler said.
Those "speed bumps" make navigation challenging for boaters, including a commercial fleet of fishing vessels based in Sneads Ferry.
This project has been tied into a pipeline contract for work in the Intracoastal Waterway.
Dredged material from this project will more than likely be placed on North Topsail Beach's shoreline on Topsail Island.
"The scale of material that goes on the beach from this waterway contract would be a tenth of what they need for coastal storm protection," Keistler said. "It's a good place to put it, but as far as providing protection to the structures, that's not what it's designed to do. We're dredging because of navigation and that's a quality to place to put the sand."
The Corps has permitted locations on which it may place the dredged material – roughly 1,500 feet from the inlet.
"And we start pumping sand away from the inlet until we either run out of sand or money," Keistler said.
New Topsail Inlet
A little more than $500,000 has been budgeted for dredging in New Topsail Inlet at the south end of Topsail Island.
Those funds may allow for the inlet to be dredged twice, Keistler said.
Topsail Beach Mayor Steve Smith and chairman of the Topsail Island Shoreline Protection Commission said that, right now, the inlet — about 16 feet deep and 400 feet wide — is "in pretty good shape."
"However, there are some connecting places like Topsail Creek that possibly could use some dredging this year," he said. "That helps not only Topsail, but it also helps all the boaters docked in Hampstead and that area of North Carolina. We look at this as a one-time event that is going to allow us to take a look at the connecting channels and make sure they stay navigable year-round."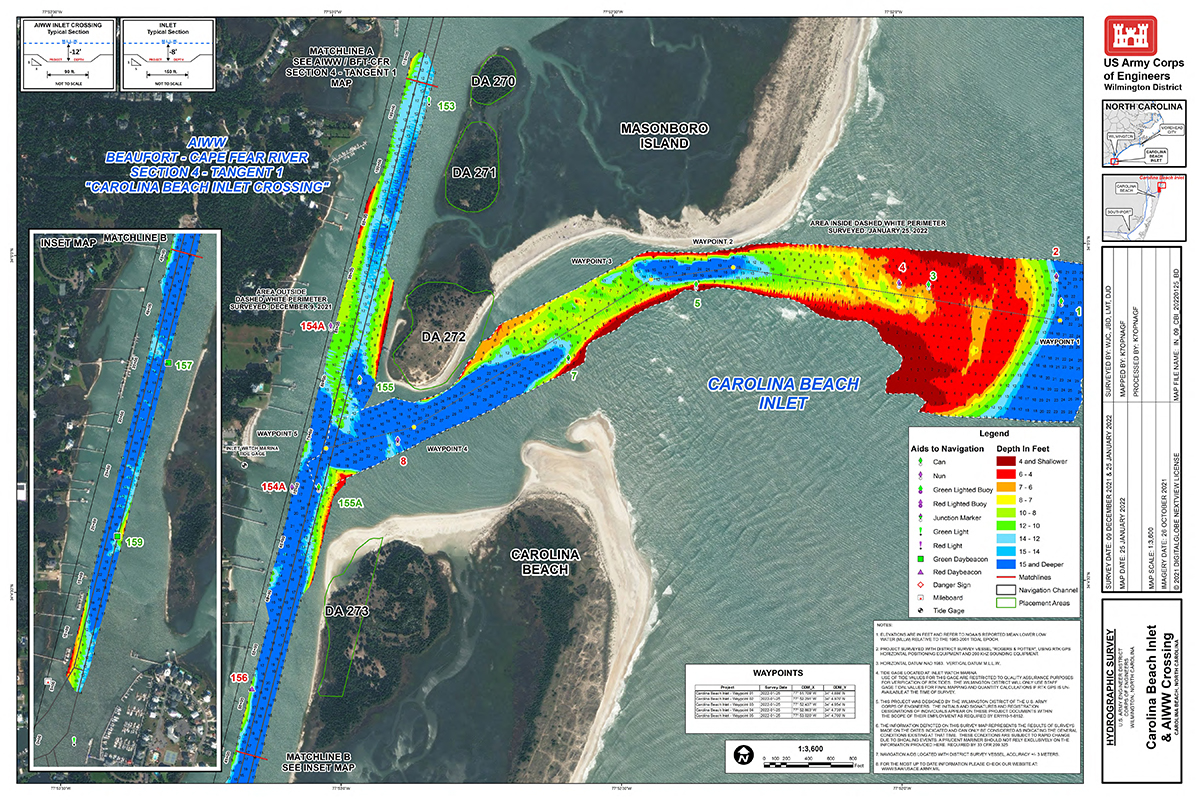 Carolina Beach Inlet
The $1.04 million in federal funding allocated for the dredging of Carolina Beach Inlet should get that inlet "into really, really good shape," before tourism season kicks off Memorial Day weekend and as long as the inlet is dredged in April, said New Hanover County Shore Protection Coordinator Layton Bedsole.
"We're three months behind the eight ball now and so it's going to be a significant hit on that $1,040,000 to restore that depth and width now," he said.
The county's target is to dredge the channel every eight to 10 weeks a year.
The inlet was dredged in December, which means that if it is dredged in April, nearly double the amount of time will have passed since it was last cleared of shoaling.
"The outer reach of Carolina Beach Inlet is the most challenging reach," Bedsole said. "We still have to clean up the inside, but nothing to the degree of the outside shoals."
The annual budget for maintenance dredging of the inlet is $350,000 from the county and $700,000 from the state's Shallow Draft Navigation Channel Dredging and Aquatic Weed Fund.
Each year, the county budgets $350,000 for maintenance dredging of the inlet. That money is paired with another $700,000 from the state's Shallow Draft Navigation Channel Dredging and Aquatic Weed Fund for an annual budget of $1.05 million.
Having that funding year to year allows the county to get on the Corps' dredging schedule as soon as possible, which can be challenging.
"The Corps' limited dredge fleet, and the Currituck (the Corps' hopper dredge) being in the shipyard for the last year or so, prioritized callings from the Ferry Division, Department of Defense, Coast Guard up and down the East Coast, all play into us chasing the Corps' schedule for the shallow draft inlet fleet. We're always chasing the schedule," Bedsole said, adding, "The Corps works really hard to provide shallow-draft inlet access in New Hanover County."
Other projects
Funding from the infrastructure bill also includes about $4.5 million for dredging portions of the Intracoastal and conducting inspections and evaluations on upland dredge material disposal sites. The Corps is to identify "speed bumps" in the waterway that impede navigation.
"Usually they're in the same locations year after year," Keistler said. "We identify those, prioritize those, and then put them out for contract."
Funding also includes the following:
$250,000 to conduct jetty inspections and monitoring at Masonboro Inlet.
$30,000 for environmental monitoring at Morehead City Harbor.
$10.25 million to dredge the Wilmington Harbor anchorage basin at the state port and update the harbor's dredge material management plan. Material dredged from the harbor is not beach compatible and therefore must be placed in a Corps' maintained upland disposal area.
Money from the 2022 Disaster Relief Supplemental Appropriations Act, which includes additional funding for areas that have suffered loss due to hurricanes and other natural disasters, has been earmarked for the Wrightsville Beach Coastal Storm Risk Management project.
More than $11.5 million is being allocated to renourish the beach there to compensate for damage caused during Hurricane Florence in 2018.
"This (Infrastructure Investment and Jobs Act) is a three-year bill so this is FY22 money we've got and we've asked for potential projects for FY23 and FY24," Keistler said.
Next in the series: Shoaling in Outer Banks waterways